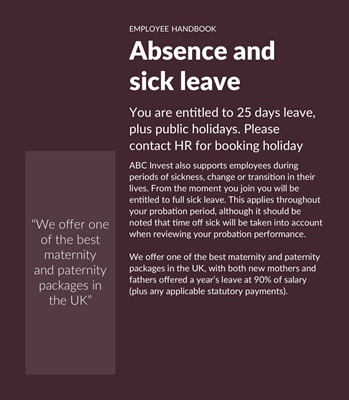 Absence &
Sick Leave
You are entitled to 25 days' leave
in addition to public holidays.
Please see HR to book holidays
ABC Invest also supports employees during
periods of sickness, change or transition in their
lives. From the moment you join you will be
entitled to full sick leave. This applies throughout
your probation period, although it should be
noted that time off sick will be taken into account
when reviewing your probation performance.
We offer one of the best maternity and paternity
packages in the UK, with both new mothers and
fathers offered a year's leave at 90% of salary
(plus any statutory payments individuals may be
entitled to).
EMPLOYEE HANDBOOK
"
We offer one
of the best
maternity
and paternity
packages in
the UK
"